How to write effective hotel guests emails + free templates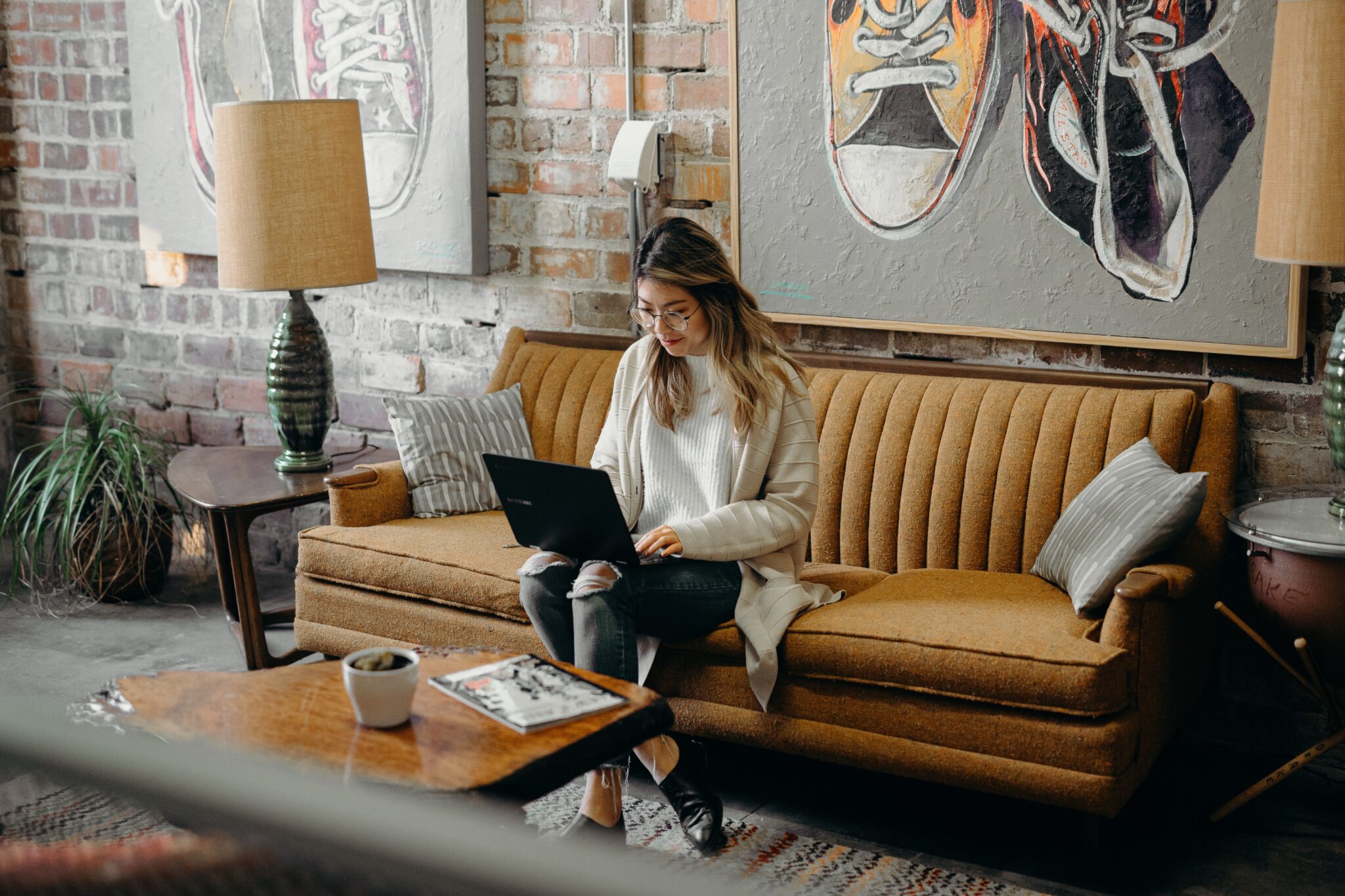 There is this strange opinion that emails are dead. However, numbers show something opposite.
There are 3.9 billion daily email users. Top it with the fact that 73% of millennials prefer communications from businesses to come via email and 59% of respondents say marketing emails influence their purchase decisions.
If these numbers don't convince you, maybe this will: email generates $38 for every $1 spent. This means it's effective and doesn't require as much investment from your side as might other marketing efforts.
And you know what's the best out of it? That email marketing is relatively easy and doesn't require that much of your time as social media. If you know the basics and automize your process.
Email marketing is not only reserved for the hotel chains. When you're the manager or owner of a small hostel, guest house, or boutique hotel, you can leverage the power of email marketing too.
In this blog post, we will show you the anatomy of effective guest emails, so you see results in your revenues and your brand awareness.
What is email marketing?
Email marketing is a marketing channel used to educate your prospective leads (your current and future guests) about your services.
Why implement an email marketing strategy?
You see, not only big hotel chains can benefit from using emails as a marketing tool. As a small accommodation owner you can:
Build your business awareness between national and local tourists (relevant in the covid era)

Build trust

Drive traffic to your website

Increase your revenue through upselling

Increase engagement

Win away OTA for the next stays

Boost repeat business (especially for the local and national tourists)
How to capture email addresses
There are few ways you can obtain email contacts from your guests. The most obvious one is when your guest makes a reservation. Whether directly with you or via OTA (online travel agency), your PMS should store their email contacts.
NOTE: you need to be careful with your email database as there are some emails generated automatically on OTA, which after some time expire. An example is booking.com email addresses. That's why it's important to confirm email with your guest on check-in (or online check-in).
You can also ask for the confirmation of email during online check-in or at the arrival at the front desk. 
Another way is to require an email address to connect with the wifi. Or directly on your website, or blog by offering relevant content.
Basics you need to know before you start
Before you start, you need to understand your customer profile. Where do they come from, their language, age, gender, and interests.
That knowledge is necessary for sending relevant content.
It's important to segment your email list. You don't want to send the same email content/offer to all of your contacts, because it won't be effective. You can segment your list based on:
Their location

Language

Age

Long of stay

Period of stay

Birthday

Family with kids
And so much more…
Understand and participate in all of the stages of the guest journey
Here are typical emails you will send: reservation confirmation (booking phase), welcome email (between booking and on-property phase), pre-arrival (1 day before on property phase), on-site email (on property phase) & post-stay email (post-stay phase).
All of them are part of the guest journey, in which you should participate. Your PMS or CRM should give you the possibility to create, schedule, and automate that process at least for these mentioned above emails. In FrontDesk Master you can easily create an email marketing journey for your guests.
Now let's analyze what you can include in each of them.
Reservation confirmation
Send instantly after the booking was made. The subject line should be clear, like "your confirmation at XX".
Here you include the most important details of the reservation:
Your logo,

Name of the guest

Dates booked

Type of room booked

Price and what's left to pay

Your contact information

Link to online check-in, online payment, or reservation modification when relevant

Call to action to follow your property on social media
Welcome email
Send a day or 2 after making a booking.
That's an email where you can welcome your future guests into your online community. Show them what services you offer onsite and off-site. And ideas for what they can do in your area.
Pre-arrival
Send 2-3 days before the arrival.
Great email to offer some upsells: to book breakfast, tickets, upgrade their room or buy an excursion. Plus show what a guest can do during your stay- help them in planning and inspire them to take advantage of your place.
Don't forget to include the link for the online check-in and online payment (you can also make a separate email dedicated to online check-in).
On-site email
Send at the check-in day or a day after. Example of a subject line: Name of the guest, welcome in XX, here are few things you can do.
Welcome to your property, repeat the way they can contact you in case they need anything. Suggest a thing or two, they can make during their stay. If you do customer satisfaction surveys, it's a good time to ask for their check-in experience.
Post-stay
Send it 1-3 days after the check-out. Thank them for choosing your property, and invite them to leave the review (for example on Tripadvisor). You can also offer a discount code for their next stay, which they can share with their friends (tell them to share it!).
Successful email anatomy
47% of recipients open an email based on the subject line. And 70% (!) report is spam based on the subject line. These numbers speak for themselves. Your subject line is the most important (and the hardest to write) part of your email.
Here are all the 3 parts of the email you need to work on:
From Name (the best option is to put here your property name, so your guest knows straight away from where it comes from)
2. Subject line – here are few tips to make your subject lines better:
build curiosity, 

create a sense of urgency, 

Use the guest name or the name of the city they live in (for example "5 places to escape from Madrid bustle & hustle")

use numbers, 

ask questions, 

use emojis if they're aligned with your brand image

use words that catch the eye: new, soon, alert
3. Preview text/preheader (a preview of what's inside of your email. Often the email marketing tools lets you customize it) 
Inside of effective email
Email to your guest should typically include these elements:
Headline

Image 

Content

Call to action

Social integrations

Contact details 

SPAM compliance
Below you can find an example of an email from Room Mate hotels. In this case, the headline appears on the image "up to 35% discount". The subject line for this email was: "Last 24 hours".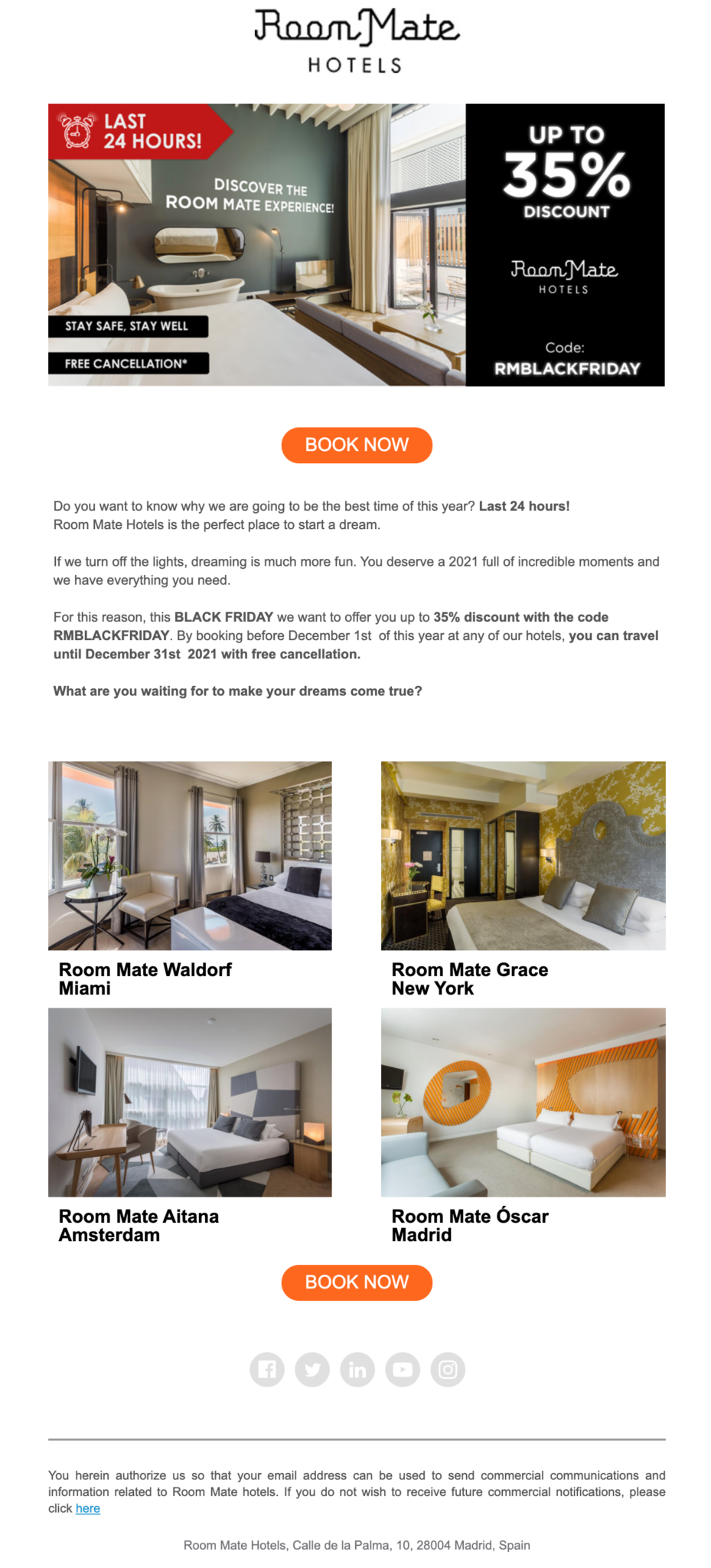 Make sure that your email is:
Direct and scannable

Contains one main message per email (in the example above it's the Black Friday discount)

Easy to read: divided into paragraphs

Keep it short: 3 scrolls rule

Make sure it's optimized for mobiles

60% of the text, 40% of images- don't overdo it with images, so it doesn't go to a spam folder

Make images clickable and introduce the Alt text in case it's won't open properly in the email box.
You can use one of the platforms below to easily create a nice looking HTML template with a drag and drop builder:
You can create a free account there and create the email from scratch or using one of their templates. Once your email is ready you can EXPORT it to an HTML file.
See below how to get the HTML code for FrontDesk Master:
 Alternatively, you can use emailmonster.io which doesn't require registration. 
After creating the email hit Save & Download and follow the instructions to get the HTML file.
Your property management system should allow you to create and automate email sequences easily.
You can download our email guest journey sequence example or nurturing sequence to nurture (or inspire) the email contacts you have already on your list.
With FrontDesk Master you can easily create email templates and schedule them so they are sent to your guest at the right time.
In conclusion
Email marketing is a highly effective tool, that can help you in attracting more local tourists, build brand awareness and increase revenues with upsells. As data shows it has a high ROI (return on investment): $38 for every $1 spent.
To write successful emails to your guests, you need to nail the subject line and use the formula 60% text and 40% images (and don't overdo the number of images, as it's easier to get to the SPAM inbox).
---