These 6 hostels commit to environmental sustainability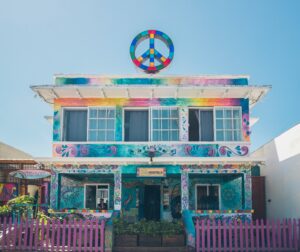 Sustainability became an important part of the hospitality industry. It's not a trend anymore. It's a priority.
During the pandemic, we have seen acts of hospitality we all admire. These are difficult times for the travel and hospitality industry. Yet, staff from hotels & hostels show acts of kindness and help, by working hand in hand to come out of the crisis. 
In this post, we want to highlight 6 hostels, which take sustainability into their hearts and teach travelers how to respect our environment and local communities. 
What is sustainable tourism?
Traveling and learning to understand each other is the foot ground for tolerance. 
The tourism and hospitality industry is one of the key factors that influence the development of the communities you visit during your travels. So as you can imagine, if it is led uncontrolled or unorganized it can have a negative influence on society, culture, and ecology.
So, what does sustainable tourism even mean?
Here is the definition by UNESCO:
"Tourism that respects both local people and the traveler, local heritage and the environment. It seeks to provide people with an exciting and educational holiday that is also of benefit to the people of the host country." Source
6 hostels that have sustainability at heart:
The first Hostel in the world to get the BIOSPHERE RESPONSIBLE TOURISM. Twentytu is constantly implementing technological solutions and contributing to environmental care. 
2. Sunflower Beach Backpacker in Rimini, Italy
This famous for a party hostel, not only brings together people from all over the world. They also do it while being plastic-free.
3. Urban Jungle Hostel, Malaga, Spain
Located in a beautiful building, protected by the government. As its name indicates it takes green to the next level- you will find a green oasis inside. They use toxic-free cleaning products and recycle. 
4. Tortuguero Adventures Guesthouse & Cabinas, Tortuguero, Costa Rica
Located in the center of a village Tortuguero, near the national park. Teaching travelers about local biodiversity. It applies eco-friendly practices in its daily operations.
5. GreenSpace Co-working Hostel and Guesthouse, Goa, India
Led by the philosophy of eco-tourism, they are committed to offering the best experience on their property. With green in mind. They offer eco-friendly products, organic and healthy food.
6. Goodmorning Hostel, Lisbon, Portugal
Considered one of the best hostels in Lisbon, it commits to the local community through social projects.
The list of incredible hostels could go on. And if you dream about opening your eco-hostel, make sure to read 10 hostel expert tips that will help you in it.