How to hire and retain excellent hostel staff
A common struggle shared by many hostel owners and managers? Hiring and retaining excellent staff. 
You see, staff can make or break the hostel. 
While finding a responsible and hardworking person is complicated in itself, you need to do what you can to keep them once you have a person like that.
Tips on how to hire and retain an excellent hostel staff
Before we dive into the tips, we want you to remember one thing: 
think about your staff as an investment, not an expense.
When you invest in the professional hostel staff, you invest in better customer service and peace of mind.
Hostels usually have a high staff turnover due to hiring young people who travel. They will stay for a short while, but they eventually leave once they earned what they wanted after a few months. Or they find new opportunities. 
Don't get discouraged – that's why we've written this post. With our tips on how to hire and retain hostel staff, you will build a healthier hostel business.
Hiring hostel manager
Hostel manager is a crucial position. Unfortunately, it's also one of the most complicated to look for. It's not an easy job, that's for sure. 
It will be the manager responsible for the success of your hostel. This position needs to satisfy your needs by bringing in the results and meeting your crew's needs.
First, create an attractive job description. 
As it is hard work, you should compensate for it well enough. Not only with the wage, but the benefits it brings. 
For this position, look for someone with a proactive attitude, open mind for changes, and thinking with results.
How to make the hostel manager position offer attractive?
You could add an extra percent from the yearly hostel profits or commission from the tours sold. 
Hiring reception staff
Reception is the heart of the hostel. So, it's natural that front desk staff should make the heart beat. Meaning, they are the ones influencing the hostel atmosphere and making sure guests feel at home.
Before hiring, you should be clear about what type of people you need. When you manage a small hostel, a good idea might be to invite this person to engage with guests for a few hours. Let them be with your guests, and see how it goes.
Look and hire for the attitude. 
When a new person starts, you should include a month or two of paid probation time in the contract to see if this person fits the hostel.
Be clear on responsibilities and what they should expect.
For someone who never worked at a hostel, it might be hard to imagine the responsibilities it includes. On the job interview, you can specify some of the tasks. If you want your staff to do the guest laundry, don't hide it. Do you want receptionists to help housekeepers if there's nothing to do? Don't forget to mention it.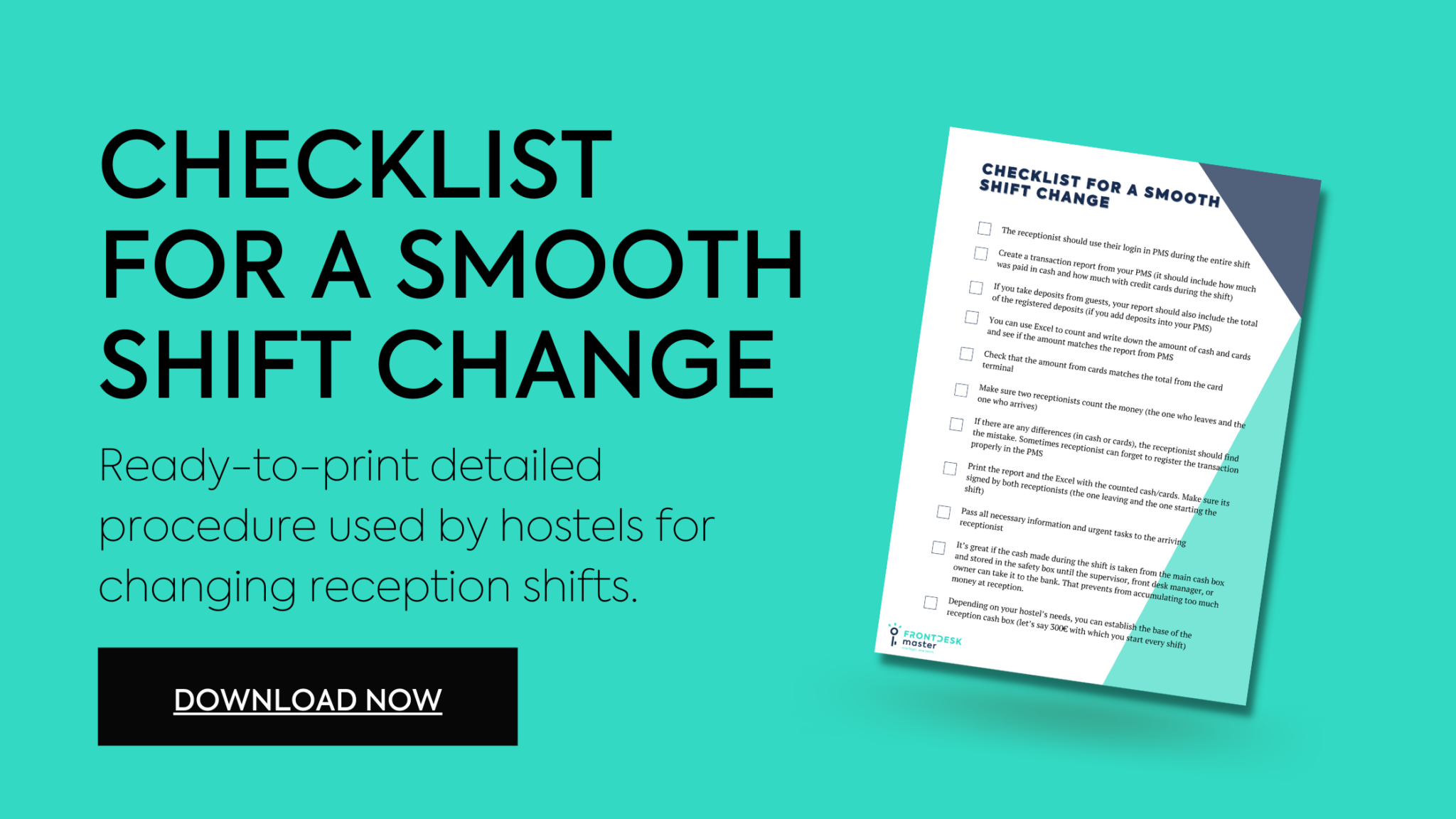 Paid staff vs. hostel volunteers or internships
You might find hiring volunteers attractive or, if it's illegal in your country, providing internships. There are ups and downs for this:
They can bring a pleasant change in the atmosphere and encourage guests to get to know each other

They can help to do the extra work over the high season

Volunteers usually stay a short time, which means you will need to train new people all the time

They might not be as professional as paid staff, which can bring low-quality service, resulting in low review scores on OTAs and Google

You will not save money on wages, because you need to pay for volunteers accommodation
Find the balance between paid staff and volunteers.
A good practice is to have a mix of both: paid staff and volunteers or internships. That's a healthy mix, and reception always is grateful for receiving a helping hand during the high season.
How to retain hostel staff
Be a leader
It's essential to communicate well with your team. Make sure every decision which affects hostel staff is thoroughly communicated and understood. Be open to active listening and let your staff know you hear them.
Provide training
When there's a new reception member, make sure they have time to learn the property management systemCloud PMS – Live and their responsibilities. That's where shift checklists and standard operating procedures (SOP) come in handy.
Offer a legal work contract and a fair wage.
As we have mentioned in the beginning – staff is an investment, not an expense. Therefore, providing a legal contract and a fair wage, which allows staff to pay for rent and cover monthly costs, should be your baseline.
Create opportunities to grow
One of the reasons for the high staff turnover in hostels is not providing growth opportunities. The good news is – it doesn't have to be climbing the title ladder. You can offer opportunities in the form of courses or training. 
Work-life balance
Create shifts for the whole month and give them to your staff in advance. Listen to their day-off requests, and try including them. This way, each person can make plans.
Recognize their achievements
Give your hostel staff feedback and recognize when they did something well and when you're proud of them.
Give hostel staff responsibility
If you trust your staff, let them make the decisions related to guests. These decisions can include: free upgrades in particular cases or not charging for the canceled non-refundable reservation. 
Like that, you will see how much support they can give you and if they are ready to work independently. Nevertheless, let them know you're always there when they hesitate or need you.
Do you have other tips for hiring and retaining a great hostel staff? Share them with us on Facebook!